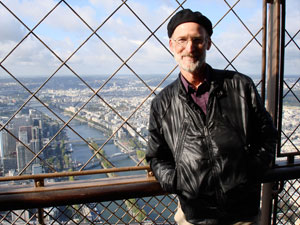 A native Californian and Bay Area resident, Don Petersen has worked professionally as an illustrator for over thirty years. After earning degrees at the University of California, Santa Barbara and the Academy of Art College in San Francisco, he worked as a graphic artist and billboard painter for the renowned Berkeley Repertory Theatre. This led to jobs designing posters, books, a museum catalog, and logos and brochures for various Bay Area companies and arts organizations. Don was on the art staff for the award-winning Berkeley Monthly for a few years before going freelance full-time.
Since then Don has worked for several publishers, contributing illustrations to elementary textbooks, language books for adults and magazines for readers of various ages and interests. Numerous Silicon Valley firms have hired Don to illustrate handbooks, tutorials, slide presentations and advertising, often as a means to bring levity to somewhat dry or technical subject matter.
Don is always ready to bring a client's idea to life with a colorful, eye-catching illustration. When a client needs help developing an idea, Don will use a pad of paper, a handful of HB pencils, and a spark of humor to take it to the next level. Don's usual media are watercolor, colored pencil and ink on bristol or illustration board. Sometimes he uses his computer as well, if that's the best way of creating the art for the assignment.
(On the left, that's Don at the top of the Eiffel Tower. He thought the beret was required.)
CLIENTS
Addison-Wesley
Advanced Micro Devices
Apple Computer
ASPCA
Burger King
Hallmark
Harcourt Brace
Heifer International
Hewlett Packard
HomeStreet Bank
KGO-TV (ABC)
KQED (PBS)
McGraw-Hill
Memorex
National Wildlife Federation
Oracle
Oxford American
Pearson Learning
Pentagram Design
Portal Publications
Safeway Stores
San Francisco Conservatory of Music
TIME for Kids
United States Postal Service